Find more time for what matters most.
Our Online and Mobile Banking services give you instant account access — whenever, wherever.
Online Banking & Bill Pay
At Clinton Savings Bank, we offer convenient online access to personal bank accounts through Online Banking. Learn more about all that Online Banking provides below:
Online Banking
Enjoy secure and convenient 24/7 online account access
Monitor all your account transactions, especially debit card activity
Perform account balance inquiries & the ability to set up balance alerts
Ensure a specific check has been cashed
View eStatements including check images
Transfer funds between CSB accounts, as well as at other financial institutions1
Reorder checks
View interest earnings for your accounts
Online Bill Pay
Pay one-time or recurring bills with ease
Bill Presentment (eBills) also available from participating merchants
Free service for Preferred, Total Access, Less Stress or Get Real Checking account holders; otherwise, the first 3 months are free for new users; $4.95 per month thereafter
Schedule payments in advance
Set up payment reminders
Maintain all payee information in one convenient place
Ensure payments are received on time and safely
Mobile Banking with Mobile Deposit
Mobile Banking
We also offer one convenient Mobile Banking app for access to both personal and business accounts. Learn more about all that our Mobile Banking app provides below.
Benefits of Mobile Banking
The benefits of mobile banking are many. When you download Clinton Savings Bank's banking app from the Appstore® or Google Play, you'll enjoy the freedom of banking how you want, where you want and when you want.
In addition to these benefits, our mobile banking services enable you to:
Easily keep track of your finances — even on the go
View account information including balance and recent transactions for deposit accounts and date and amount due for loan accounts
Transfer funds between your CSB accounts
Pay bills with ease
Ensure you stay on track with your budgeting goals using the Money Management feature
Transfer funds using PopMoney
Protect against fraud by helping you stay on top of daily transactions
Allow you to bank from the airport, train or backseat of a cab — no need for a desktop
Locate automated teller machine (ATM) locations that are part of the Allpoint® Network
Easily link to the CardValet app
Earn cashback1 with the Purchase Rewards program
Download our Mobile App and save valuable time and effort; avoid an extra trip to a branch!
Text Banking
With Clinton Savings Bank's free Text Banking2, access to your accounts is just a text message away. Just text one of the codes below to 454545:
Check your available balance before making a purchase with your debit card (BAL)
Find out if a deposit or automatic transfer has posted to your account or get a list of recent transactions, including debit card purchases (HIST)/(LAST)
Transfer funds (TRANS)
To enroll in text banking, simply login to Personal Online Banking, select Additional Services > Mobile Banking, then click "txt mobile banking."
Mobile Deposit
If you've ever needed to deposit a check but glanced at the time and realized you'd never make it to our branch before they close, or if you are tired of depositing checks at the ATM or in a branch, there's never been a better time to embrace digital technology and try mobile deposit for yourself With mobile deposit, you can snap a photo of your check and make that deposit whenever you want from wherever you are.
The Advantages of Mobile Deposit
Here are some of the benefits of mobile check deposits:
You can deposit a check anytime – not just during bank hours
You can deposit a check from anywhere – no need to visit a branch or ATM
Deposits are secure
Saves time
Please remember to endorse the check(S) with your signature and the exact words: FOR CSB MOBILE DEPOSIT ONLY
Take Advantage of Mobile Banking Services in Massachusetts Today
Reach out to a Clinton Savings Bank Relationship Banker today to learn more about our mobile banking services.
1After activating an offer in Purchase Rewards and making a qualified purchase with your CSB debit card, the offer will automatically be applied and you will receive the cash back in your CSB checking account. The cash back can take up to 30 days after the offer is redeemed. Cash back is awarded subject to adjustments for returns, cancellations and other events.
2Clinton Savings Bank does not charge a fee; however, standard data rates may apply from your wireless provider.
eStatements
Secure access available to customers enrolled in Online Banking
Save paper & the environment
Easier to retrieve and print statements when needed and the ability to download for permanent storage (archived on online banking for up to 36 months)
Reduce chances of fraud and identity theft
Access earlier than paper statements
Get Started with eStatements
Once you are an Online Banking customer, you can enroll to receive your statements electronically!
Log into CSB's Online Banking
Click the 'eStatement' tab listed in the top menu
At the prompt, accept the disclosure to activate your eStatement delivery.
Money Management
Money Management is conveniently accessed through CSB's Online & Mobile Banking and enables you to track your budget with easy-to-read graphics, monitor your spending more closely, and see your full financial picture in ONE quickly accessible place!
Not only can you take more financial control and avoid budgeting mishaps, but you can set goals to save more for what's most important to you. Take advantage of the fact that, whether it's on your computer, tablet or cell phone, you can monitor all accounts quickly - in one view - providing convenience and security.
We invite you to take advantage of monitoring, managing and budgeting with our easy to understand visual graphics. The information is based on your CSB accounts as well as those you choose to add from other financial institutions.
Simply take a few moments to add the accounts that you would like to view – you can add other bank accounts, credit cards, loans, investments, properties, and lines of credit. It's extremely convenient, secure and valuable!
What can you do with Money Management?
Add a goal: whether it's savings, debt payoff, retirement or any other you define
Transactions are placed in categories so you can easily see where your money goes (Auto/Transport, Bills & Utilities, Food & Dining, Health, and even Taxes)
Set and manage your budget based on categories (Entertainment, Fees & Charges, etc.)
And so much more!
Log into CSB's Online or Mobile Banking and give it a try today!
Where you will find it on online banking:

Where you will find it on the mobile app: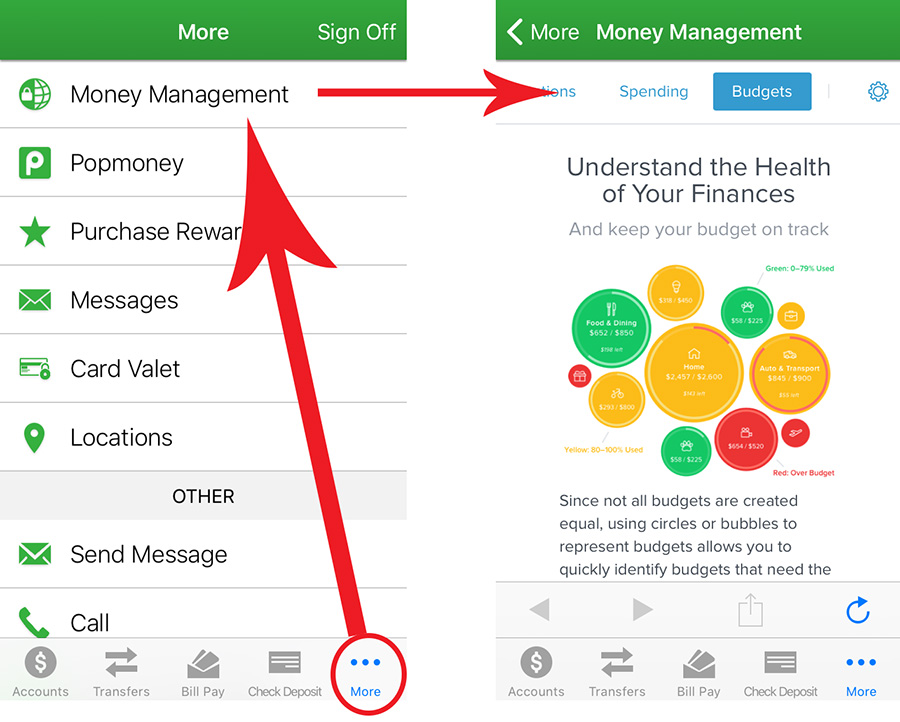 CardValet
Manage your CSB Debit & Credit Cards 24/7 through CardValet®.