Find more time for what matters most.
Our Online and Mobile Banking services give you instant account access — whenever, wherever.
Online Banking & Bill Pay
At Clinton Savings Bank, we offer convenient online access to personal bank accounts through Online Banking. Learn more about all that Online Banking provides below:
Online Banking
Enjoy secure and convenient 24/7 online account access
Monitor all your account transactions, especially debit card activity
Perform account balance inquiries & the ability to set up balance alerts
Ensure a specific check has been cashed
View eStatements including check images
Transfer funds between CSB accounts, as well as at other financial institutions1
Order checks
View interest earnings for your accounts
Online Bill Pay
Pay one-time or recurring bills with ease
Bill Presentment (eBills) also available from participating merchants
Free service for Preferred, Total Access, or Get Real Checking account holders; otherwise, the first 3 months are free for new users; $4.95 per month thereafter
Schedule payments in advance
Set up payment reminders
Maintain all payee information in one convenient place
Ensure payments are received on time and safely
Mobile Banking with Mobile Deposit
We also offer convenient mobile access to personal bank accounts through our Mobile Banking app. Learn more about all that our Mobile Banking app provides below:
Fast, free, and secure service for personal customers1

Easily keep track of your finances — even on the go
Deposit checks (view demo) - Please remember to endorse the check(S) with your signature and the exact words: FOR CSB MOBILE DEPOSIT ONLY
Check account balances
Find a nearby ATM
Transfer funds between accounts
Pay bills

Utilize this service three convenient ways:
Save valuable time and effort; avoid an extra trip to a branch
Download Our Mobile App
Text Banking
With Clinton Savings Bank's free Text Banking1, access to your accounts is just a text message away. Just text one of the codes below to 454545:
Check your available balance before making a purchase with your debit card (BAL)
Find out if a deposit or automatic transfer has posted to your account or get a list of recent transactions, including debit card purchases (HIST)/(LAST)
Transfer funds (TRANS)
To enroll in text banking, simply login to Personal Online Banking, select Additional Services > Mobile Banking, then click "txt mobile banking."
1Clinton Savings Bank does not charge a fee; however, standard data rates may apply from your wireless provider.
eStatements
Secure access available to customers enrolled in Online Banking
Save paper & the environment
Easier to retrieve and print statements when needed and the ability to download for permanent storage (archived on online banking for up to 36 months)
Reduce chances of fraud and identity theft
Access earlier than paper statements
Get Started
Once you are an Online Banking customer, you can enroll to receive your statements electronically!
Log into CSB's Online Banking
Click the 'eStatement' tab listed in the top menu
At the prompt, accept the disclosure to activate your eStatement delivery.
Popmoney (Person-to-Person Payments)
Conveniently available within Online & Mobile Banking (fees may apply; please see fee schedule)
Send money in three easy steps (minimum of $10; allow for a 3 day delivery to recipient)
Request to have money sent to you
Send notification to contacts via email or text
Minimal information required:

Recipient's name
Recipient's email address or mobile number

No need to exchange private account information
Users can receive money at one of the following:

In their eligible account online at their bank (if it's a member of the Popmoney network)
Online at Popmoney.com
Get Started
Using Online Banking
Select Move Money> external transfer>POP Money, then be sure you accept the disclosure!
Using CSB Mobile Banking
Tap on MORE on the bottom of your app, then Popmoney.
Money Management
Money Management is conveniently accessed through CSB's Online & Mobile Banking and enables you to track your budget with easy-to-read graphics, monitor your spending more closely, and see your full financial picture in ONE quickly accessible place!
Not only can you take more financial control and avoid budgeting mishaps, but you can set goals to save more for what's most important to you. Take advantage of the fact that, whether it's on your computer, tablet or cell phone, you can monitor all accounts quickly - in one view - providing convenience and security.
We invite you to take advantage of monitoring, managing and budgeting with our easy to understand visual graphics. The information is based on your CSB accounts as well as those you choose to add from other financial institutions.
Simply take a few moments to add the accounts that you would like to view – you can add other bank accounts, credit cards, loans, investments, properties, and lines of credit. It's extremely convenient, secure and valuable!
What can you do with it?
Add a goal: whether it's savings, debt payoff, retirement or any other you define
Transactions are placed in categories so you can easily see where your money goes (Auto/Transport, Bills & Utilities, Food & Dining, Health, and even Taxes)
Set and manage your budget based on categories (Entertainment, Fees & Charges, etc.)
And so much more!
Log into CSB's Online or Mobile Banking and give it a try today!
Where you will find it on online banking:

Where you will find it on the mobile app: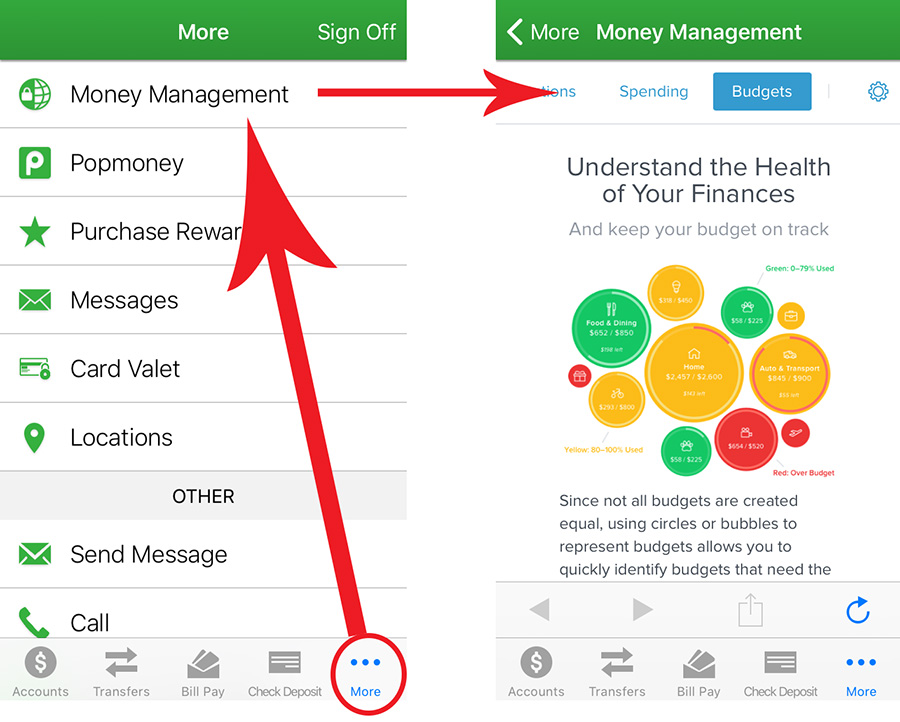 CardValet
Manage your CSB Debit & Credit Cards 24/7 through CardValet®. Learn more.